Hairy Toes, Ice Cream and Weight Loss
Written by George Carroll on October 13, 2017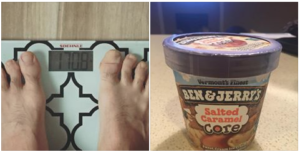 Don't mind my hairy feet, or the band-aid covering my toe nail…oh, and I'll tell you about the Ben and Jerry's in a minute…
I've had challenges managing my health and weight since I left college in 2003.
At times, I've weighed up to 200lbs, battling a negative self-image, sugar addiction, binge eating and too much alcohol consumption.
That may not seem like a big deal, but if you've ever battled through food addictions, diet regimens, quitting alcohol and exercise routines, you know what I'm talking about.
This year, I decided that I was DONE with letting all of this control me and wreak havoc on my energy levels and well-being.
What's my Why?
Because I have 2 sons and I don't want to be that tired-ass dad who doesn't have energy to keep up with his kids.
I projected forward 20 years without changing my health patterns and I felt the pain of not changing, and how that would negatively impact ALL areas of my life.
Ouch…(go ahead, give it a try)
With that, at the beginning of this year, I weighed in at 185lbs.
I set a goal to reach 170lbs by the end of this year with a "Whatever the fu** it takes" mindset. With that clarity and commitment, here's what followed:
• I gave up alcohol – I haven't had one alcohol beverage in 2017.
• I dramatically minimized sugar intake and red meat.
• I started pushing myself harder on my trail runs and at the gym.
• I've written down my goals almost every day (shout out to my accountability partner Celeste O'Brien).
• In March, I started drinking a morning tonic made up of 4oz water, 1oz apple cider vinegar, 1oz liquid turmeric and a tablespoon of MCT oil.
• In May, I integrated "intermittent fasting" into my routine, where I only eat between the hours of 11am and 7pm on most days.
• In June, I started taking a liquid probiotic shot to clean up my gut health.
In the past, I've tried nearly everything – cleanses, juice fasts, Adkins, etc. I've tried so many "lose weight fast" plans and here's what I've realized from this year…
✅  Mastering your health isn't about taking the easy road or the fast track…
✅  It's about setting a goal and making a "Whatever the fu** it takes" commitment to it.
✅  It's about writing your goals down as often as you can, to get your brain clear and aligned with your outcome.
✅  It's about constantly pushing your comfort zones in your exercise routines – feel the burn and let it strengthen you.
✅  It's about eating more alive foods, and less processed foods.
✅  It's NOT about completely depriving yourself of the foods you love.
✅  It's about tweaking your approach along the way and being a scientist in your approach. You have to do your research, apply the knowledge, observe the results and keep what's working while dropping what's not.
✅  There's no "silver bullet health mastery blueprint" (even though they're being sold everywhere by most health guru's).
✅  It's about being patient with yourself, and at the same time, not buying your own excuses.
✅  And, potentially, the most important part, it's about getting connected to your WHY.
Being able to play with my son Callan and keep up with his endless energy brings me so much joy, and reinforces my new health habits to KEEP GOING.
Looooong Story short, this morning, I weighed in at 170.8lbs, well on my way to hitting my yearly goal.
And it wasn't because I followed a "blueprint" or the "fast weight loss" flavor of the month.
I'm going to crush my goal because I got clear, committed and connected to my why. Everything else has been a by-product of that.
So…how did I celebrate my win?
With a pint of Ben and Jerry's… as Kirby and I watched the 3rd episode of The Good Doctor.
---
---
Comments
---